Removed More Pools Than Any Other Company!
Simply fill out the form below for a free quote. Save on pool expenses by contacting us today!
Contact us to get started today!
Simply fill out the form below for a free quote. Save on pool expenses by contacting us today!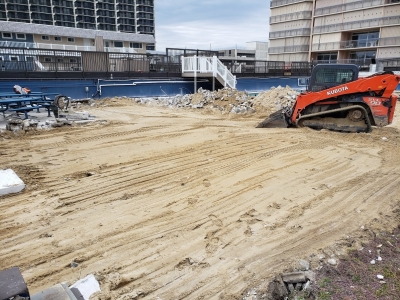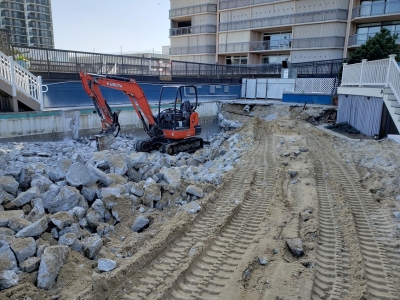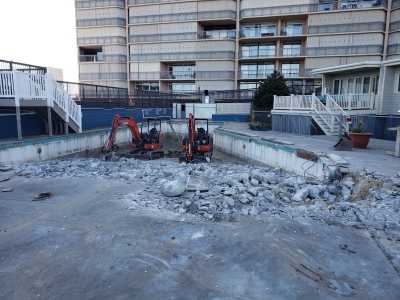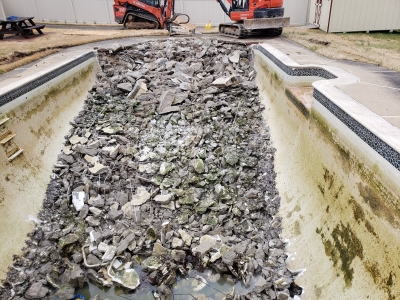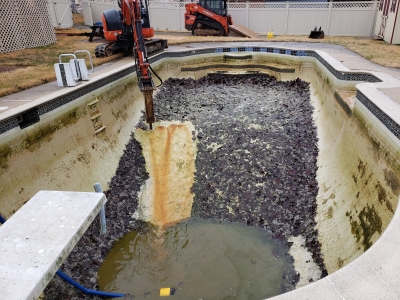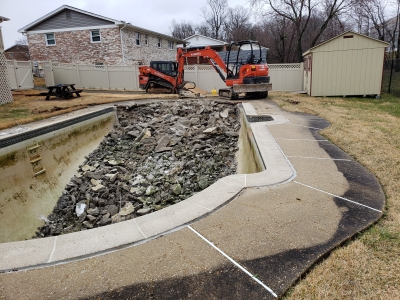 Are you in search of a fast, dependable and cost-effective solution to your pool demolition needs? Look no further; Remove a Pool is a fully licensed, insured and bonded family-owned business and demolition contractor that specializes in providing professional pool removal services all across Maryland, Virginia, Delaware, California, Pennsylvania, Nevada, Florida, Arizona, Texas, and all other states in the US. We have the experience, skill, and knowledge to complete all jobs, whether big or small, with the least hassle or disturbance of the surrounding environment.
Our highly trained and dedicated crew approaches each project with great skill and attention to detail, offering expertise in more areas including permits, filling, grading, landscape clean-up and more. As your preferred pool demolition partner, we strive to make the process as quick and painless as possible as we handle all the details while you focus on the important tasks at hand. Remove a Pool stands behind its work with a 100% satisfaction guarantee so you can sit back and watch us take your idea into reality. We have perfected our demolition process over the years with the use of state-of-the-art equipment that get the job done in a smooth, convenient and safe manner. We understand that each project is unique thus are fully focused on maintaining the highest industry standards in the removal of your above ground pools and fill in of in-ground pools.
Benefits of a Pool Removal Service
There are so many reasons as to why homeowners may consider a pool removal service. For some, the pool may be taking up unnecessary space in their yards while others do it to avoid the escalating pool maintenance costs. Whatever the reason, a pool demolition service offers numerous benefits that will increase your backyard's appearance and functionality.
Here are a few benefits of hiring a professional pool demolition service for your demolition project.
Reclaiming your Land
Swimming pools that remain unused take up a significant amount of your yard space. Getting rid of a pool will help you make room for other fulfilling backyard activities like a new patio space, outdoor decks, fireplaces or an artificial turf that can serve as a playground space for your kids.
Increases Safety
Removing a pool will help you reduce the liability risks that pools present especially for home owners with kids and pets that cannot swim. You will have a peace of mind knowing that your pool does not present a potential risk to your loved ones.
Increases Home's Value
If you are considering selling your home in the future, removing a swimming pool will increasingly attract the interest of buyers making it incredibly easy to sell. Your home's resale value is increased leaving you to enjoy the financial benefit that comes with it.
Saves you Money
The high costs of pool ownership far outweigh the benefits as swimming pools use up a lot of money in repairs and maintenance costs every other time. A pool removal service eliminates all of these expenses while saving you time so you can focus on developing other endeavors.

The Pool Removal Process In Maryland, Virginia, Florida & More
Remove a Pool makes the demolition process to be easier than you actually think. When you contact us for a pool removal service, we will provide you with a free detailed consultation and estimated quote for the demolition service. Our knowledgeable experts will work with you at every step of the process. We do the complete job from obtaining the necessary permits, disconnecting utilities at the source, scheduling all City/County inspections, pumping water out of your existing pool, removal and backfill of the pool creating an amazing space for your family to enjoy.
Our professional team will use the best approach to providing an excellent service depending on the type of pool, size, accessibility and method of pool removal. There are two types of pool removal options. A partial pool removal process consists of breaking concrete and filling the pool with clean fill dirt. A complete removal involves the total removal of all debris, backfilling with fresh soil and compaction for maximum density and stability. Our friendly experts will help you in making the right decision that meets your budget and time limits for an exceptional pool demolition and removal service.
Transform Your Yard With Our Pool Demolition Services
We will haul away all materials, level you backyard while ensuring the best possible drainage for a perfect looking outdoor space. You can opt to enhance your yard's appeal with a lawn design service at a separate charge. We take measures to dispose of the remaining debris in an environmentally friendly manner.
Get your yard back with a reliable, efficient and cost-effective pool demolition service from Remove a Pool. Contact us today to make it happen!
Bill Lopez was excellent in explaining and presenting Remove A Pool's services. He understood the permitting process for removal of pools in Maryland and explained that process very well. He was also willing to answer all of my questions about the process. We are still deciding whether to remove our pool. But if we proceed, we will go with Remove A Pool.
Hey Ya'll, One of my coworkers recommended this company to me and man well I tell you, they are very professional, punctual, and responsive… Don is the initial person i sat down with to discuss my needs and wants and he walked me through the process even had a booklet prepared for reference purposes… Talk about ON Point… I will say permitting too a little longer than expected but that is due to the area i live in…so I gathered my patience and looky looky.. The project was officially started and done within a weeks time talk about efficiency.. Charles was awesome, he came by we did walk through to be on the same page, if anything happened or needed to change he called me immediately… Great Job… I would definitely recommend.Amanda B.
DavePerkins PersonalAcct
2023-05-30
can't say enough about the services they provided to remove our in ground swimming pool. Don and Michelle communicated well, coordinated well and made it as seamless as it can be. few days, experienced small crew and equipment got it done fast and safe. Now we have a yard, and no costly unused pool. Highly recommend.
We enjoy working with our clientele and helping then preserve their home values in the ever-changing real estate market. Whether we are in TX, PA, DC, MD,VA, DE, FL, CA, VT, NJ, MA,NY or anywhere else in the US, it is our goal to make sure your project is completed with the upmost level of quality and professionalism.
Gerald Updegraff
2023-01-11
Reasonable price, quality service, delivered as promised with better results then I expected. They removed my 12x24 above ground and large wooden deck , modified the deck to retain existing stairs. Graded the site adding top soil,seed, and straw. Extremely easy and pleasant to work with. So glad I found this great company!
MSP Management Services LLC
2022-05-04
Great experience with this company. From the estimate to completion the process was transparent, efficient and punctual. Charles who came out for the demolition did a great job and went over and beyond in helping us demo/clean the backyard patio. Job was completed with all required permits and inspections and a complete package provided at the end.
I am totally impressed with my experience! I am a blind property owner and unfortunately have had shady experiences with sighted professionals working on my home in the past. This made me nervous when it came time to remove the family pool that had been on my property since 1971, but my overall experience with Don, Bill, Michelle, Charles, Ezekiel, and Luis at Remove A Pool put me at ease!The project was completed well within the timeframe and budget initially agreed upon. The whole crew was responsive and professional answering any questions I had. I want to express gratitude for Don, Bill, and Michelle for the financial consideration and helping me understand that whole process. I want to especially recognize Charles who did a phenomenal job with actually removing the pool, and helping me walk the perimeter each day to feel the progress being made! Thank you to Ezekiel, and Luis for the excellent job with the wall!For anyone wondering how a blind man knows the job was done well, my sighted neighbors and children did check and are all impressed by how wonderfully everything turned out! Truly great experience, I highly recommend Remove A Pool!
Charlie altman jr.
2021-05-18
This experience exceeded our expectations, for sure! We were apprehensive even considering removing our pool but Don and Bill were very knowledgeable and explained the process in detail. Considering the work involved we found the price to be reasonable. The crew , Efrain and Lenin, came when scheduled and worked very hard each day. We were amazed at the skill Efrain demonstrated on the equipment! His knowledge of the entire process was impressive. We now have a beautiful yard with nice, green grass, as promised ,and many photos documenting this project . Thanks to Michele in the office for facilitating this!
Remove A Pool: The Premier Swimming Pool Removal Company in the Nation
Nationwide Pool Removal * Demolition * Backfilling Services
Video Library of Pool Demolition Process
The reasons for pool removal vary, but these are some of top reasons. The most common reason is generally that the pool has reached its lifetime and is no longer in-use. Pools that sit unused have the potential to become liability concerns for several reasons, plus that space can be used for something more useful to the property owner.


YOU WILL LOVE US, WE ARE
SCREENED AND FEATURED