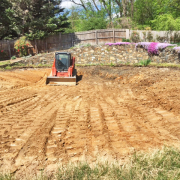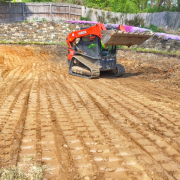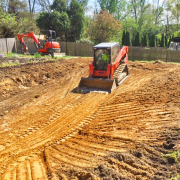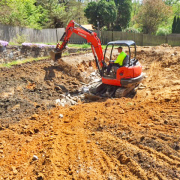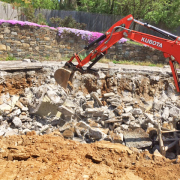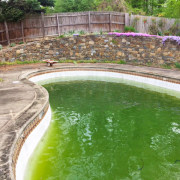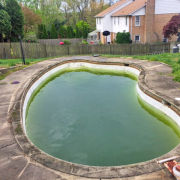 Swimming pools are cost features that take up a tremendous amount of property space. If you're pool has become a liability or an eyesore, it's time to consult Remove A Pool for our demolition services. We serve both residential and commercial customers in and around the Alexandria metro area. We have experienced crews and all the equipment and gear needed to professionally remove your unwanted swimming pool regardless of its size or condition.
Pool Removal Services In Alexandria Virginia Done Right
Remove A Pool features a comprehensive array of pool demolition and removal services for our commercial and residential customers in Alexandra. When you contact us, we'll send a skilled operator out to assess the job in question. We'll discuss our removal services. You can opt for a complete pool removal where all traces of your pool are removed or a partial removal. In partial removal situations, we'll leave behind some of the pool's foundation, but drill holes into it so that drainage can occur. We can also provide you with an accurate cost estimate for our removal. If you agree, we can then schedule a removal date that suits your convenience.
What Makes People Want to Remove Your Pool?
Pools, even the most expertly maintained pools, don't last forever. Sometimes age catches up with swimming pools and a removal is needed. Some popular reasons to opt for pool removal are:
Non-Functioning: If your pool no longer functions, you might want to consider a removal, especially if investing in its repair is not an option. A non-functioning pool is a liability and prevents you from using your property in alternate ways.
No Longer Enjoyed: If your household seldom uses the pool or has outgrown its use, you may want to avoid the cost of maintaining it or use your land for an alternate function. Perhaps you want to expand your patio or provide your dogs with more space to run.
Moving: If you're planning to sell your property, you should know that a non-functioning or aging pool can decrease the marketability of your home or commercial property. Many real estate shoppers avoid properties with swimming pools.
Too Expensive: Maintaining a pool is expensive. Repairing a pool is even more expensive. If you're ready to eliminate this expense, you might be ready to remove your pool.
For experienced Alexandria, VA, swimming pool removal, contact Remove A Pool. We carefully screen our staff to ensure they meet our high standards. They have the expertise and licensing needed to operate our fleet of demolition and debris-removal gear and equipment. On removal day, they'll show up on time and ready to perform all the services needed. They'll demolish the existing pool, fill in the space it leaves behind, and haul away the debris. We can also procure the needed permits for the job.
Now is the time to reclaim your backyard.  Our pool removal services will have you wishing that you contacted us sooner to get rid of your pool.  Contact us today.