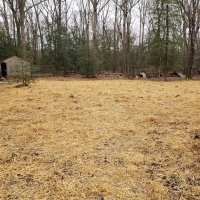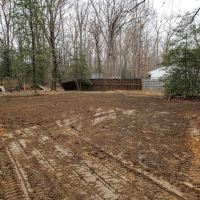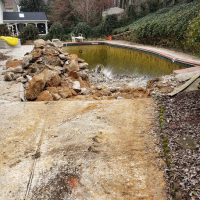 Ever wonder what you get when you book Remove A Pool in to demo your pool? Take a look at the following picture to see how we go about pool removal. As you can see, we efficiently are able to excavate a pool without damaging the landscaping or yard around it. These are pictures of a local pools that we removed in Tysons Corner, Virginia. Not only did we remove the pool quickly, but the owners of the yard were extremely happy to get their yard back.
Satisfied Pool Removal Clients In Tysons Corner
We hear a lot of compliments after we finish a job, but these particular clients was happy to get their yard back. The homeowners mentioned that they frequently entertained and most guests were not interested in the pool. What they really needed was more room to spread out. Removing the pool meant they could expand their patio and gain more seating areas. We did such a clean job that they were ready to start their patio job right away. We didn't leave any debris behind and the ground was leveled perfectly.
Remove a Pool Can Do the Same for You
If you like the idea of getting back your yard then you should consider contacting Remove a Pool. We would be happy to come out to your property and assess your pool. We offer free no-obligation estimates so that you can comfortably get an idea of the costs associated with pool removal. You may be surprised to learn just how affordable the process is. Get back your yard and reduce your yearly costs by cutting out pool maintenance all together with one phone call. Remove a Pool is always here and ready to help you move forward.